February 3 to February 19  •  Director, Rebecca May Flowers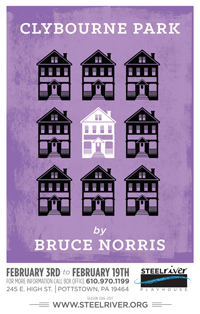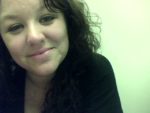 Winner of the 2011 Pulitzer Prize, London's Olivier Award for Best Play and the 2012 Tony Award for Best Play, Clybourne Park is a wickedly funny and fiercely provocative play about the volatile combination of race and real estate.
Act One opens in 1959, as a white couple sells their home to a black family (the Younger family in A Raisin In the Sun), causing uproar in their middle-class neighborhood.
Act Two finds the same house, in 2009, changing hands again. And, while the stakes have changed over the years, the debate remains strikingly similar as neighbors wage a hilarious and horrifying pitched battle over territory and legacy that reveals just how far our ideas about race and gentrification have evolved – or, have they? Clybourne Park is written by Bruce Norris.
*Contains mature themes and adult language and not suitable for younger audiences.
MEET THE CAST!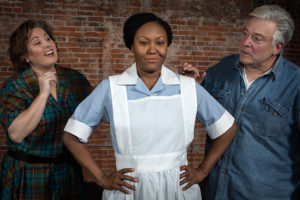 Russ/Dan … Marc Schule (pictured right)
Bev/Kathy … Allison Fisher (pictured left)
Francine/Lena … TiaChanel Allen (pictured center)
Jim/Tom … Christopher Waters
Albert/Kevin … Jerry McGrier
Karl/Steve … Joe Donley
Betsy/Lindsey … Lauren Salvo
Kenneth … Zachary Clark