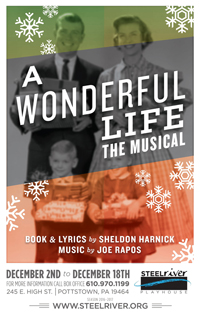 December 2 through 18.  Directed by Leena Devlin.
Based on the beloved 1946 holiday movie classic, this charming musical is sure to inspire and entertain. Bedford Falls comes alive with the magical tale of finding hope in your own hometown. In a tuneful re-imagining of the classic Frank Capra film "It's a Wonderful Life," a would be angel swoops to the rescue of desperate banker George Bailey on Christmas Eve.
From the Tony-winning co-creator of Fiddler on the Roof, it's a heartwarming family musical that celebrates the power of love and the goodness in all of us. Remember: "Every time a bell rings, an angel gets his wings!" The show features Music by Joe Raposo who may be best known for his work on Sesame Street for which he wrote the theme song, as well as classics such as "Bein' Green" and "C is for Cookie." Book and Lyrics by Sheldon Harnick, who wrote Fiddler on the Roof, She Loves Me, and Fiorello! among others.
MEET THE CAST!
| | |
| --- | --- |
| Clarence | Matt Snyder |
| Matthew | Bryan Cassidy |
| George Bailey | Ryan Simme |
| Harry Bailey | Jason Scansaroli |
| Milly Bailey | Kathleen Godwin |
| Tom Bailey | Tim Novak |
| Uncle Billy | Ben Fried |
| Ruth Reynolds | Alena Feldman |
| Mary Hatch | Sharon Bowman |
| Henry Potter | Ron Quirk |
| Harriet | Hailey Richmond |
| Bert | Sebastian Antonio |
| Ernie | Charles Delaney |
| Mr. Martini | Doug Pratt |
| Mrs. Martini | Beverly Albertus |
| Violet Bick | Sarah Maria Paul |
| Sam Wainwright | Scott Minor |
| Sarah Zimmer | Amanda Wetzel |
| Mrs. Hepner/Dorothy Wainwright | Kelly Murray |
| Bank Teller | Max McCullagh |
| Mrs. Carter | Elissa Drummond |
| Ensemble | Alena Feldman-Trystian Hernandez-Ella Hagelauer-Max McCullagh-Kelly Murray-Tim Novak-Hailey Richmond |