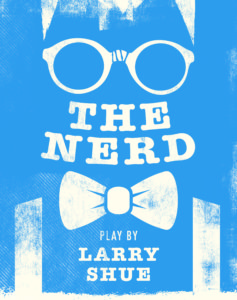 Auditions for "The Nerd" – An Outrageous Comedy by Larry Shue
Directed by John McGraw
One of the funniest plays ever written, this extraordinarily inventive, side-splitting comedic action centers on the hilarious dilemma of a young architect who is visited by a man he's never met but who saved his life in Vietnam—the visitor turning out to be an incredibly inept, hopelessly stupid "nerd" who outstays his welcome with a vengeance.
AUDITIONS:
Sunday, July 9 – 3pm to 5pm
Monday, July 10 – 7pm to 9pm
Email casting@steelriver.org for an audition time slot
CALLBACKS (By Invitation Only):
Wednesday, July 12 – 7pm to 9pm
Performances October 2017
WHAT TO PREPARE & BRING WITH YOU:
1-2 Min Comedic Monologue
Be Prepared to do Cold Readings from the Script
A head shot (doesn't have to be professional)
Resume
Audition Form (One will be provided when you contact us for an audition time slot)
ROLES:
WILLUM Cubbert (male, mid-30s). A professional architect, likable and sincere, unexciting and set in his ways. Willum needs a little gumption.
TANSY McGinnis (female, about Willum's age). The woman about to choose between her boyfriend Willum and her career as a weather girl. Tansy is bubbly, wry, and definitely her own woman.
AXEL Hammond (male, about Willum's age). Dry, wise-cracking, irreverent, devil-may-care theater critic who has never done an anonymous favor for anyone.
Warnock WALDGRAVE (male, 35-60). Powerful, stern, and successful businessman totally lacking in imagination. The last time Waldgrave smiled was 30 years ago, and then it was gas.
CLELIA Waldgrave (female, 30-50). Patient but strained, harried but calm, the picture of a schoolteacher almost but not quite stressed to her breaking point.
THOR Waldgrave (male, 9-11). The son of Warnock and Clelia Waldgrave is a bratty who is a temperamental, loud, boisterous, irrepressible young monster.
RICK Steadman (male, mid-30s). Tactless, selfish, insensitive, aggravating, pointlessly dull, and the worst houseguest ever. Note: the actor playing Rick Steadman will be playing 3 parts (Rick, Kemp, and Red) and must be able to disguise his voice as Rick and Red.