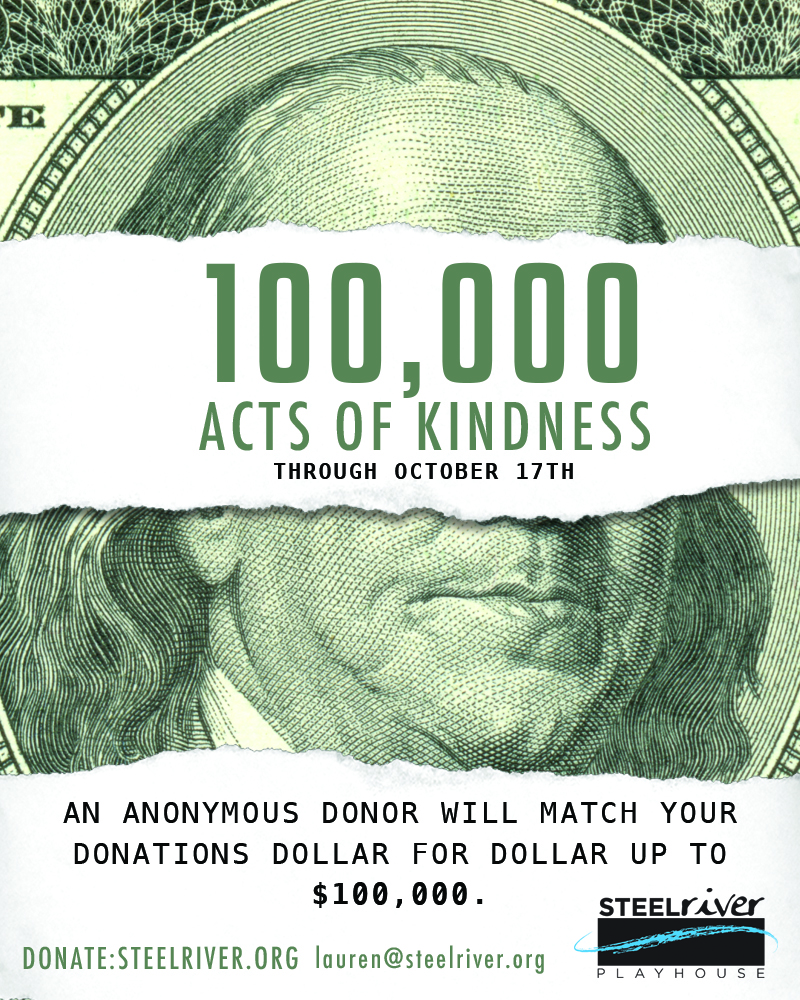 MATCHING DONOR UP TO $100K
TODAY through October 17, 2017
We have some very exciting news! An anonymous donor has agreed to match every dollar donated to Steel River, up to 100K, between now and October 17, 2017. All funds, aside from gala contributions and those made prior to 8/15, will be matched by this donor, making your generosity go even further then ever before.
We have implemented an appeal to encourage everyone who has ever heard of SRP to show their support and donate any amount they can before October 17, 2017, for our matching funds campaign.
Contact Lauren Swanson to show your commitment to the betterment of our community through the fine arts, while enabling your altruism to reach greater heights by doubling your contribution, in thanks to this year's donor gift of matching funds.

Every dollar counts and we hope you will help us reach our goal of raising 100K. Show your commitment by way of donating today, as well as passing along this prodigious news to all of your clients, co-workers, friends and family.
This matching gift campaign is an unprecedented opportunity to secure the much needed funds that make SRP possible and that can establish SRP as a vital force in Pottstown! Giving to your non-profit theatre, Steel River Playhouse, emboldens the entire Pottstown area and offers growth through the arts, enriching the community and the lives of those within it. Now your charitable support will go even further then ever before!
Great Reasons to Support Steel River
There is something very special going on at 245 East High Street in Pottstown, PA that brings together the transformative power of the performing arts with the much needed economic growth of downtown and it is called Steel River Playhouse. You should support Steel River because it touches so many lives in a productive way. Your support allows you to make a positive change in our community and you can see it as an investment in the future of our children and all residents of this historic Pennsylvania town.
Did you know that Steel River…
Reaches approximately 2000 area children per year, many of whom are under served or at risk. And that the scholarship program ensures that no child is turned away for not having the economic means to pay for the lesson, camp or workshop.
Offers free performances to area children and their families in low to mid income households through our Welcome Neighbors programs and scholarships.
Offers free group classes and workshops that culminate in fully staged productions complete with professional lighting, sound and musical direction to all area children through our Welcome Neighbors programs (a program that provides free tickets and more to those in our community of lesser means) and scholarships.
Offers private instruction in voice, acting, piano, guitar, flute and trumpet all taught by professional artists holding advanced degrees from the country's most prestigious universities.
Brings 1000 Pottstown School District students to the theater every year at no charge to them or their school. And even handles the transportation to the theater!
Created a special annual program for the Olivet Boys and Girls club to introduce these wonderful kids to the art of playwriting.
Assesses its educational program achievement in accordance with published Pennsylvania mandates and guidelines.
Offers summer camp from early July to late August. And makes scholarships available to camp.
Is a "Gateway" arts organization that welcomes and introduces amateur community members to the world of professional theater by allowing them to work under the guidance of a staff of professional artists.
Employs professional choreographers, actors, directors, singers, musicians and technical designers for each and every show.
Produces over 110 individual performances every year.
Presents fully staged plays, jazz ensembles, choirs, opera and comedy improvisation throughout the season.
Brings over ten thousand ticket buyers to High Street every year that patronize local businesses.
Employs a staff of professional arts administrators.
When you support Steel River you make it possible for under-served children to experience the arts, expand their world view and grow confidence and capability. You make it possible for area businesses and restaurants to thrive with visiting, theater going patrons. You make it possible for community members to gather together with a sense of pride in a world class performing arts facility.
When you support Steel River you support Pottstown and its most valuable asset: its people. Won't you join us?
MISSION STATEMENT
Steel River Playhouse seeks to strengthen community, inspire creative exploration, educate and entertain through the presentation of quality performing arts events and education for diverse audiences.
OUR VISION
We are part of a growing number of performing arts organizations creating a new paradigm for American theater. As a "gateway" theater we are committed to promoting individual, audience and community development through performing arts education and events. Steel River Playhouse is located in historic Pottstown Pennsylvania and we are committed to its creative and economic revitalization.
OUR LOCATION
In 2008 Steel River purchased a turn of the 20th century abandoned department store in the once thriving downtown of Pottstown and transformed it into a 2.4 million dollar performing arts center. Our playhouse serves as an anchor for the community to rebuild and develop a new thriving economy and as a gathering place for shared artistic experience. Pottstown labors under a higher than state average poverty level and Steel River exists to serve the children and adults of this distressed population. We also stand as an artistic and entertainment destination for the tri county area.
Steel River Playhouse is a non-profit 501 (c)3 organization. All contributions are tax-deductible to the fullest extent of the law. The official registration and financial information of Village Productions may be obtained from the Pennsylvania department of State by calling toll free within Pennsylvania 1(800)732-0999.